Getting Top Dollar For Your Quincy Home
Posted by Jeffrey Chubb on Thursday, December 7, 2017 at 11:25 AM
By Jeffrey Chubb / December 7, 2017
Comment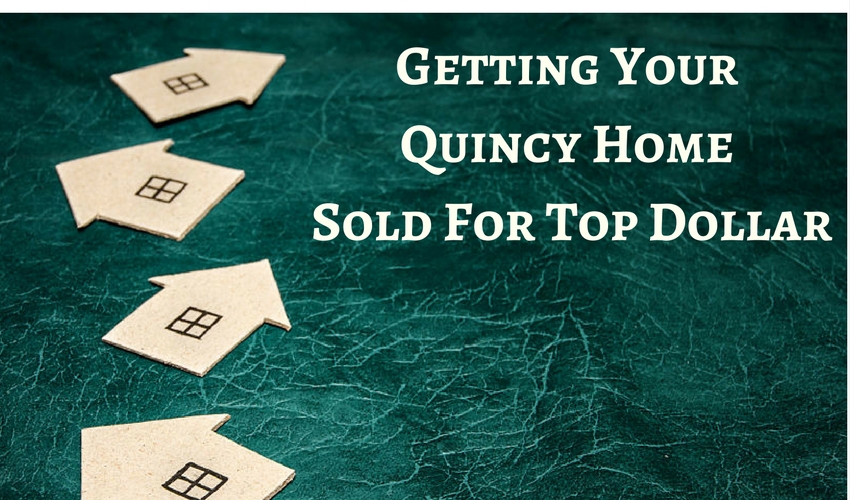 Selling Your Quincy MA Home
The Quincy real estate market is on fire! With people moving out of Boston, but wanting to live close enough to commute for work, coupled with Quincy's great schools, has driven the property values in Quincy up and the demand for housing in Quincy is strong.
As of the time of this article, Quincy only had 50 active homes for sale with the average Days on Market being just over 60. The Median List Price of a home for sale in Quincy is just over $330,000. When you compare these market statistics to homes in Boston, you can see why the Quincy real estate market is so strong.
Although the demand for housing in Quincy is strong, getting your home sold for top dollar still requires a strategy. Needless to say, we won't be able to cover every step in getting your home sold, we will cover some of the basics required for getting your top dollar for your Quincy home.
Pre-Listing Due Diligence
Prior to listing your home in the MLS - you will want to complete the pre-listing due diligence. This included looking at a variety of real estate statistics relative to your Quincy home. This process requires MLS access to get an idea of what similar homes have been selling for as well as looking at the overall climate of the real estate market. Below are a couple things included in the pre-listing due diligence:
Reviewing Active Homes For Sale in Quincy. This gives an idea of the competition you will have when selling your home. Any potential buyer, looking for a home in Quincy MA will be looking at all of the active homes for sale. You will want to know what your competition is.
Reviewing Similar Sold Properties. You will want to go back at least 6 months to review sold properties in Quincy. These homes will provide valuable insight not only on pricing your home properly, but shows what homes are currently selling.
Reviewing Expired Homes. This is a very overlooked part of the process. Not only do you want to know what is selling -- but what is NOT currently selling. If you see a very similar property in Quincy that did not sell, reviewing the price and marketing strategy for that home provides insight on what NOT to do. In many instances, pricing your home BELOW THE PRICE OF EXPIRED LISTINGS can be a good strategy.
Reviewing The Real Estate Market. Another step is to look at the real estate market from a 10,000 foot view. Getting an idea of the average days on market, list to price sales ratio, current absorption rate as well as the micro market stats for your specific neighborhood in Quincy.
If you would like to see the most updated listings and real estate statistics for Quincy - CLICK HERE.
Getting The Value of Your Home
Before selling a home, it is important to understand its overall market value. Your real estate agent can assist with this process. Although there are also many real estate websites that claim to tell you the value of your home, be aware that these Automated Valuation Models have limitations.
Although Zillow is a very popular real estate website, be aware that the value that Zillow provides for your home in Quincy may not be accurate. We do offer a FREE home valuation - very similar to the Zestimate -- but directly interfaces with the MLS. This lets our AVM (automated valuation model) be much more accurate than other online valuation tools.

Even our tool, although good for getting an idea of what your Quincy home is worth, will not be good enough to price your home for sale. Simply stated, the only way to accurately get your homes value, if you want to NOT be one of those expired listings, is to have a Quincy REALTOR go through the MLS and provide a CMA.
Another option is to pay for an appraisal, but you will generally get a very similar listing sales price - and using a Quincy real estate agent will save you $400-$500. Keep in mind, once you find the value of your home, you will not want to inflate the listing price too far over that. You will want to review the listing to sales price ratio of the homes that have sold to get an idea of where your final listing price should be.
Preparing Your Home for Sale
With the internet playing such a vital role in all real estate transactions today, having your home stand out among the online competition is critical.
One of the most powerful tools used by the best REALTORS is professional real estate photos. When a potential home buyer is looking for homes in Quincy, their first impression of each property is the photo. Having professional photos taken, by a professional real estate photographer, is a critical step in getting your home noticed.
Another new marketing tactic done by the best real estate agents is having a 3D Virtual Tour completed on your home. Matterport is a popular technology that has been utilized with very good results for 3D virtual tours.

The goal here is to have the potential home buyer stay and look at your home longer online than the other homes for sale in Quincy. Letting the potential home buyer get as much information online about your home is critical in an effort to getting that all first step in getting your home sold...the showing appointment!
If your real estate agent is not utilizing professional photos and 3D tours -- you may want to contact us, as that is standard on all of the homes that we list for sale in Quincy.
Staging your home for sale is another thing that you will want to have completed even before the professional photos are taken. Some level of home staging is needed for all homes, but some need it more than others.
As a general rule, you will want to remove all clutter from your home. Another staging tip is to move a smaller bed in the master bedroom -- which makes it appear larger. Lastly a great tip for staging your home is to remove all items in your home that have eyes. That means personal photos from the walls and anything else you see. Items that have eyes tend to give the home personality.
You want your home in Quincy to be looked at as a blank slate...where the new potential buyer can easily see themselves living there.
Finding the Right Real Estate Agent
There are many steps involved in getting top dollar for your Quincy home. For one, you need the right REALTOR to help you effectively market your home to qualified buyers. The right real estate agent will understand the real estate market in Quincy and can help prepare your home for sale.
With years of extensive industry experience, the best local real estate agents are committed to excellence in all services. This includes the pre-listing due-diligence, coming up with the right price as well as having the right marketing plan in place.

All of these steps are important as the real estate market in Quincy is competitive; you will want your home to stand out from the competition. Having the home priced correctly at the time its listed is extremely important since it makes your home competitively viable within its asking price and range.
You will get more activity on your home within the first 2-3 weeks of it getting listed. You don't want your home to be overpriced at that time - since it will get looked over. Reducing the price at a later date has proven to be less effective in getting you top dollar for your home.
Finding the right agent in Quincy is easy -- just click HERE.
Looking to Purchase a Home in Quincy?
If you are looking to purchase a home in Quincy MA, we have you covered there too. Our property search shows all of the homes for sale in Quincy as well as all of the recently sold properties.
Browse The Most Popular Neighborhoods in Quincy