Flagship Wharf - Charlestown: Navy Yard
Posted by Jeffrey Chubb on Monday, June 20, 2022 at 1:11 PM
By Jeffrey Chubb / June 20, 2022
Comment
Welcome to Flagship Wharf, a 10-story luxury brick condo building with 201 luxury residences, a 516- car garage and 34,000 square feet of commercial space. Flagship Wharf was built in 1989 and is considered one of Boston's most prestigious buildings which offers its residents many different amenities such as valet parking, a state-of-the-art fitness center and lending library. And then there is it's amazing location which we are going to talk more about momentarily.
Hey, it's Jeff Chubb. Welcome to the channel. To learn more about real estate then don't forget to click the subscribe and like button below. And if you are thinking about making a move in and around Boston and want to talk Real Estate friend to friend… Then find my info in the description below!
Flagship Wharf is located in the Navy Yard which is a neighborhood in Charlestown. The Charlestown Navy Yard was actually one of the original six yards that formed to support the US Navy and was one of the oldest ship building facilities for the military branch. Today the Navy Yard has been transformed to a residential community that attracts thousands of tourists while offering lavish apartments, condos and townhouses with awe inspiring waterfront views. (More about Flagship Wharf and the Navy Yard Below)
Open 10/1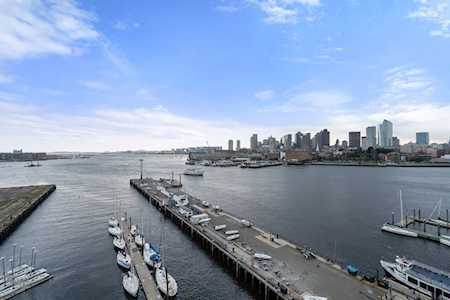 197 Eighth St #902
Boston, MA 02129
The tourists generally come to visit the two historic ships that are housed here, the USS Cassin Young and the USS Constitution which is also known as "Old Ironsides" and is the oldest commissioned warship in the world. The residents flock to the Navy Yard for its convenience, leisurely setting and quant community vibe.
Let's jump back to Flagship Wharf and what makes this building so special. Flagship Wharf offers a wide range of condos with one-bedroom units that average around 850 square feet to 3,000 plus square foot penthouse units that sport large private outdoor areas with sweeping views of Boston Harbor and the Skyline.
As I mentioned earlier, Flagship Wharf was built in 1989 which means that it was built to offer the modern luxuries that many of use have come to expect as well as desire! What type of luxuries? It's true, closet space isn't really considered a luxury… That is until you live in a condo that was built in 1900 with the tiny closets that you would find in that day and age. Units in Flagship Wharf have the space to never feel cramped while having the space to tuck away the many things that we accumulate over the years. Flagship also has a large garage which is not something you will easily find when living on the Hill as an example. Other luxuries include In-Unit Laundry, marble foyers, soaring ceilings, high end Kitchens and hardwood floors. You will also not want to miss the 24-hour concierge as that tends to be one of the main signs of earning a luxury designation.
I am sure you have heard the old adage of location, location, location… And that is what I really feel makes this building and neighborhood so special. Convenience wise, it is just a couple minutes from the highways. Commuters also are able to basically walk right out the door and jump on the ferry which runs every fifteen minutes during the morning and evening commuting hours and on the half hour between those commuting hours. Residents are also able to utilize the MGH Shuttle which will take them to North Station.
It's true, Flagship Wharf is a convenient place to call home. But there is also the serenity of its location as well. I will admit, serenity and the city normally don't go to together… But I think you may quickly realize what I am talking about as you start walking the Harborwalk. And if walking the Harborwalk isn't your thing, then maybe you just want to sit on one of the many benches that overlook the harbor and just sit and watch the boats go by. And if that doesn't quite float your boat… Then there is always The Naval Shipyard Park. It is a 5 acre park that overlooks Boston Harbor. It's a very dog friendly park. The park also has the Anchor which is a beer and wine garden that has food and outdoor seating. You will also find live performances and music at the anchor. The park also offers Basketball Courts, Tennis Courts, Playgrounds, Splash Pads, an Amphitheater and obviously is adorned with Picnic tables and benches. I would say that it is one of Boston's best parks.
And this park is literally right outside of Flagship Wharfs door. It's also just steps away from 2 full service marinas as well as fine dining and a bunch of cafes. Another fun fact is that many parts of the 2006 film, "The Departed" was shot inside and around Flagship Wharf. While Leo and Matt Damon don't live here, you may bump into some local star athletes playing on the Celtics and Bruins.
The condos above are all the Flagship Wharf condos for sale. Click here to view all Charlestown Homes For Sale.
If you have any questions about this building, the neighborhood or really any buildings or neighborhoods around the city, then let me know! I am always here to help. You can reach me at 617-480-2600 or by email at [email protected].