Boston Prices Continue To Soar Despite Weather
Posted by Jeffrey Chubb on Monday, November 5, 2018 at 4:05 PM
By Jeffrey Chubb / November 5, 2018
Comment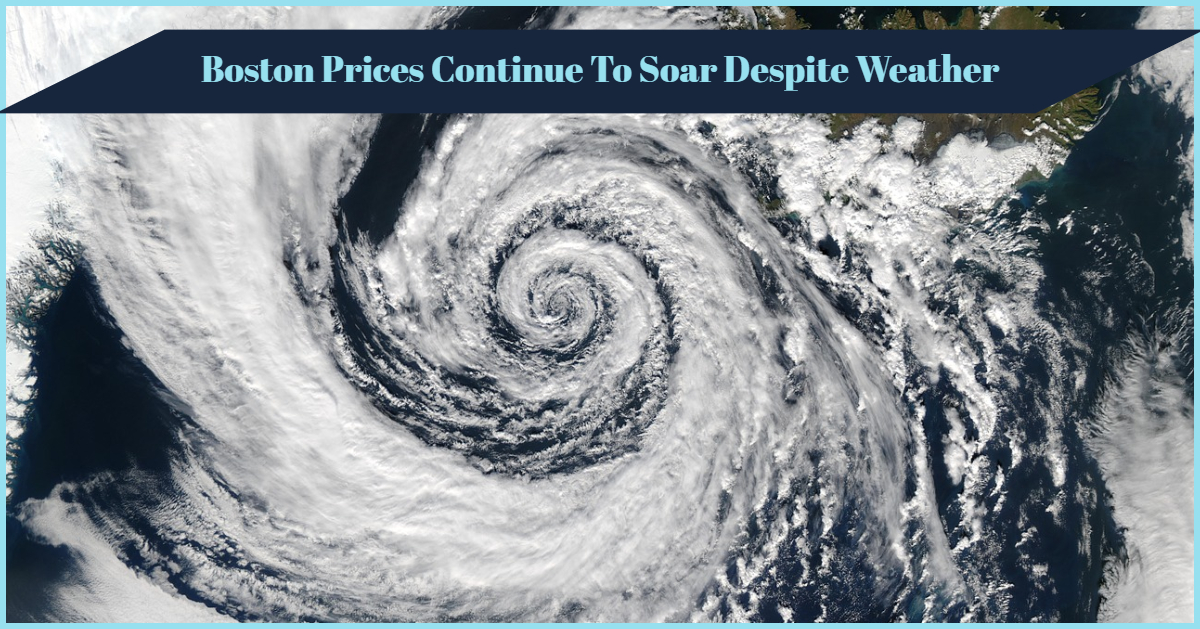 Boston Home Prices Continue To Soar Despite Recent Rough Weather
Did you know that homes in Weymouth, Massachusetts were in the path of 16 significant weather systems in the past year alone? CNBC says that's a record for the city.
Would it be surprising for you to find out that meteorologists, real estate agents, city planners, and developers expect this trend to continue rising over the foreseeable future?
The forecast puts builders in a tough situation. Developing on and near the waterfront is excellent for the economy, brings in tourists, and increases luxury living in the city, but changes to building codes are necessary to help withstand the harsh weather that is coming.
The natural disasters not only affect residential buildings, and business owners are finding out that they are paying more for repairs, flood insurance, and disaster relief.
Homes That Sit Near Water Are Warming Fast
Coastal waters are not getting as cold as they did ten or twenty years ago. In fact, the area is close to the Gulf of Maine, which happens to be warming faster than almost every other state in the country.
CNBC talked with experts from the National Oceanic and Atmospheric Administration or NOAA who felt that these changes are here to stay. If the area continues to experience hurricanes and strong nor'easters, then new construction must be ready to withstand the severe weather.
What Do Regulators Say About New Homes?
Owners of homes want property values to flourish and damage estimates to decrease, but massive changes are necessary to achieve these goals if future weather forecasts are right.
One reason that city officials feel this process is not going quickly enough is that they are making changes at the municipal level, but the most impact will require support and revision from state governments.
Despite the bleak weather forecasts, developers continue to build homes in Quincy and other cities along the coast. The seaboard has more than triple the number of new construction projects from a few years ago.
Why Do Code Changes Take So Long?
Since there are more departments and personnel at the state level, the process of changing building codes takes more time. The changes must go before each agency and differences in opinion can increase how long it takes to implement new regulations.
People and businesses that own homes for sale Quincy MA find that answers are slow coming at the higher level, but that is not stopping local builders from forging ahead.
Developers Are Putting More Money Into Creating Better Structures
Real estate agents are finding that several development agencies are putting the responsibility of upgrading on themselves by proactively using new designs, adding technologies, and relying on future forecasting to give them information.
Historical data is no longer relevant because it does not account for rising shorelines, more severe storms, and flooding. Redesigning buildings from a box shape to a more circular design is proving to be an effective tool against the wind.
The change in design allows the strong air currents to flow over the building instead of pushing against it and causing damage to real estate.
Insurance Firms Are Turning Down Loans Without Proactive Additions
Real estate agents in Quincy are seeing many builders lose flood and storm coverage without changes in the structure design, relief systems, and weather resistance inclusions in the blueprints.
Many insurance policies in Boston now require weather resistant materials and systems to ensure coverage for storm damage. If the development firm does not fork over the extra funds, then the insurance company will not provide coverage for damage to homes in Weymouth. This trend is happening in multi family units, private residences, and commercial builds.
Buyers Looking To Benefit From Improved Building Codes
As long as an architectural firm designs a structure that proactively includes storm protection, buyers can feel good about purchasing these homes.
The city is thriving because of the development in the downtown area. Boston homes for sale are retaining value and getting full coverage from insurance agencies, so local cities are seeing more interest in new builds.
Older Boston homes for sale can undergo retrofitting and upgrading to remain competitive and keep investors on the right side of the profits. While the weather looks bleak, homes for sale are spending less time on the market keeping the local economy strong.
Do you want to buy or sell a home in the Quincy or Boston area? Check out the storm trends and familiarize yourself with weather related home modifications. Be sure your home is up to code and has reasonable storm protection features in place before you buy.
If not, make sure to get a deal and have enough money left over to storm-proof the home yourself.
For more information about buying or storm-proofing a new home, contact your local Realtor with any questions.