Boston Attracts Millennials
Posted by Jeffrey Chubb on Monday, May 7, 2018 at 12:42 PM
By Jeffrey Chubb / May 7, 2018
Comment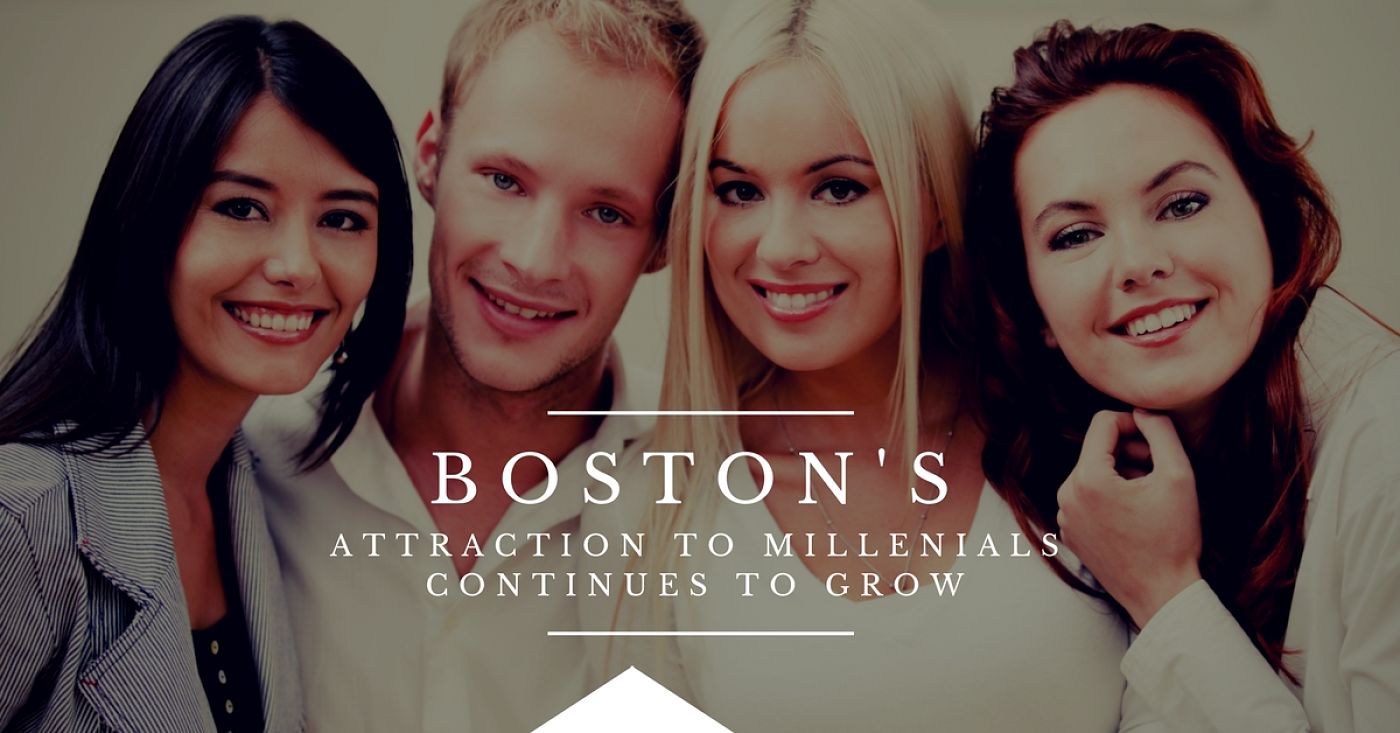 Boston Continues to Attract Millennials
Niche ranks cities using a complex grading criteria when looking at crime, public transportation, nightlife, recreational facilities, quality of life, and other aspects that make a neighborhood a fun and exciting community. Boston is number eight on this list for cities in the country that are attracting millennials says Biz Journals. If you have been on the Boston home search, you will recognize the extremely high demand for properties in and around Boston. Here are some of the reasons for Boson's popularity with Millenials.
The Attraction to Boston MA
The Boston real estate market is strong for 2018. Boston MA gives residents the chance to live in a variety of diverse areas all known for as top entertainment and cultural zones. There are fine dining establishments, museums, historical sites, shops, and sporting facilities to tour or visit when living in and around the city center. All of these areas get an A+ rating from Niche making Boston MA an extremely attractive place for couples, families, and individuals to live. The extremely high demand for housing in Boston has is generating new real estate activity in the surrounding areas too. From Caste Island in South Boston to the beaches of Cohassett, the greater Boston area has something for everyone.
Boston homes for sale provides access to fun places to exercise
Did you know that the Bunker Hill Museum has 294 steps to get to the top? The best reward for your hard workout awaits you because a spectacular view is at the top of the memorial where you can see stunning homes for sale in Quincy. The Norman B. Leventhal Walk to the Sea is a fun way for Bostonians to get out and get moving. A beeline from the State House on Beacon Hill leads to the Boston Harbor giving multi family households the chance to bond and get in shape at the same time. One of the most surprising facts is that the ground the walk covers is the site of the former harbor.
Living in Boston is a cultural experience
You may or may not know that Boston has more than 100 public artwork projects across the city. One of the reasons that millennials find Boston so appealing is the ability to explore outdoor areas including sculptures like the Paint and Henry exhibit at the Copley Place Mall. The Boston Art Commission offers another walk that takes guests through the Boston Financial District, Beacon Hill, Back Bay, and the North End neighborhoods to view each of the sculptures in person.
Why Millenials Love Boston
Boston Children's Museum

University Art Gallery

Boston Tea Party Ships and Museum

Society of Architects Space

Edward M. Kennedy Institute for the United States Senate

French Cultural Center

Museum of Fine Arts

Old South Meeting House

Institute of Contemporary Art

Russell Museum of Medical History and Innovation

Boston Athenaeum

Gibson House Museum

Museum of Fine Arts

The Vilna Shul

Paul Revere House
Sporting destinations are places that many Boston residents enjoy visiting
There is no doubt that Boston loves their sports and take any opportunity to see a favorite team play a championship game or pitch a no-hitter. A trip to Fenway Park is a must for anyone living in Boston. The ability to see and hear a game in-person is a fantastic way to spend a warm, spring day. For football fans, the opportunity to watch the New England Patriots go for another Super Bowl ring is something that you cannot pass up. Other popular sports teams include the Boston Bruins, Celtics, Cannons, Pride, and Breakers. For die-hard fanatics, the Boston Sports Trail is a bucket list item.
Explore Boston's Outdoor Markets
From the Boston Public Market on Hanover Street to the Fresh Truck at the Hyde Park YMCA, millennials have plenty of options for healthy meals. The Haymarket is accessible from the MBTA line giving locals access to fresh produce every weekend. The Boston Public Market is a way to enjoy the fresh air and pick up fresh, locally made ingredients from nearby farmers.
Faneuil Hall Marketplace is the epicenter of world-class eateries in the area. Guests can have dinner at the Hideout, one of the oldest dining establishments in Boston, and have an evening of laughter with the comedy act of the night. The Boston Magazine says that Alden & Harlow has a smoky burger and a butterscotch curacao that everyone has to try at least once. Check out upscale places like The Bancroft with beautiful Oriental rugs and marble counters and a fine selection of rare and vintage wines that is a nice reward after a day of work or play.
Best shopping venues in Boston
Downtown Crossing has amazing places to shop including Forever 21 on Washington Street. Real estate agents in Hingham Ma know that new locals enjoy exploring shops like Rainbow Apparel, Lou Lou Boutique, and Blank Label because there are hundreds of unique ideas for gifts. Prudential Center and Copley Place are two more places that improve the value of real estate in the Boston area For specialty items, Newberry Street is one of the most popular shopping districts in the entire city. You can find spectacular surprises at Teuscher Chocolates of Switzerland, Bang & Olufsen, and Montblanc.
Music and performances invite Boston residents to have fun and relax
The Boston Opera House is an iconic venue in the city because of the vaudeville design that is one of the few remaining examples of the period. Shear Madness puts on a play that morphs into a new comedy every season for almost 40 years. Did you know that the Lyric Stage has dozens of awards dating back to the 1990's? The most recent was the Elliot Norton Award for the Best Actress and Outstanding Production for Who's Afraid of Virginia Woolf? And, The Boston Symphony Orchestra is still playing for audiences more than 129 years later?
Other impressionable places to explore include Shubert Theater, Wang Theater, Calderwood Pavilion, and Wilbur Theater. Emerson College hosts many shows at the Cutler Majestic Theater throughout the year. With all of the places to explore in and around Boston, it is no wonder that the city has hit the list of Best Places for Millennials to live.
The city center is thriving with a fun day scene and diverse nightlife. Cultural exhibits, shows, and venues offer locals the chance to explore the history of Boston. With so many sports teams, any resident can cheer on a favorite or spend time visiting all the stadiums.
One thing is clear, Boston is not a dull place to live. Whether you are looking for a high end Back Bay Brownstone for sale or a quite home in Cohasset, the greater Boston area does not disappoint.