Beacon Hill Brownstones For Sale
Posted by Jeffrey Chubb on Tuesday, April 27, 2021 at 7:33 AM
By Jeffrey Chubb / April 27, 2021
Comment

MOST CURRENT BEACON HILL BROWNSTONES FOR SALE
Beacon Hill Brownstones for Sale in Boston
When people picture Boston, they generally picture the brick rowhouses nestled on "the Hill". Beacon Hill is one of Boston's, let alone the United States' oldest neighborhoods. Today it is a thriving residential community and a popular tourist destination.
Brownstones are essentially townhomes/rowhouses that are found in New York City and Boston real estate markets. These lavish and elegant properties can also be found across New England and other urban areas.
Most townhomes/rowhouses were originally constructed as Single-Family properties. Over the years many were converted into multi-family and condo properties.
The Streets of Beacon Hill today would be mostly recognizable to someone from a 100 years ago. The Brownstones have a uniformed outside appearance and are almost always multiple stories tall with flat roofs. These flat roofs now often include gardens and roof decks.
Beacon Hill Brownstones in Boston
Beacon HIll Brownstones in Boston continue to soar in popularity. In fact, these neighborhoods are some of the most desirable high-end housing areas across the nation. With traditional and vintage to contemporary doors, Boston Brownstones feature unique architectural elements and highly visible windows.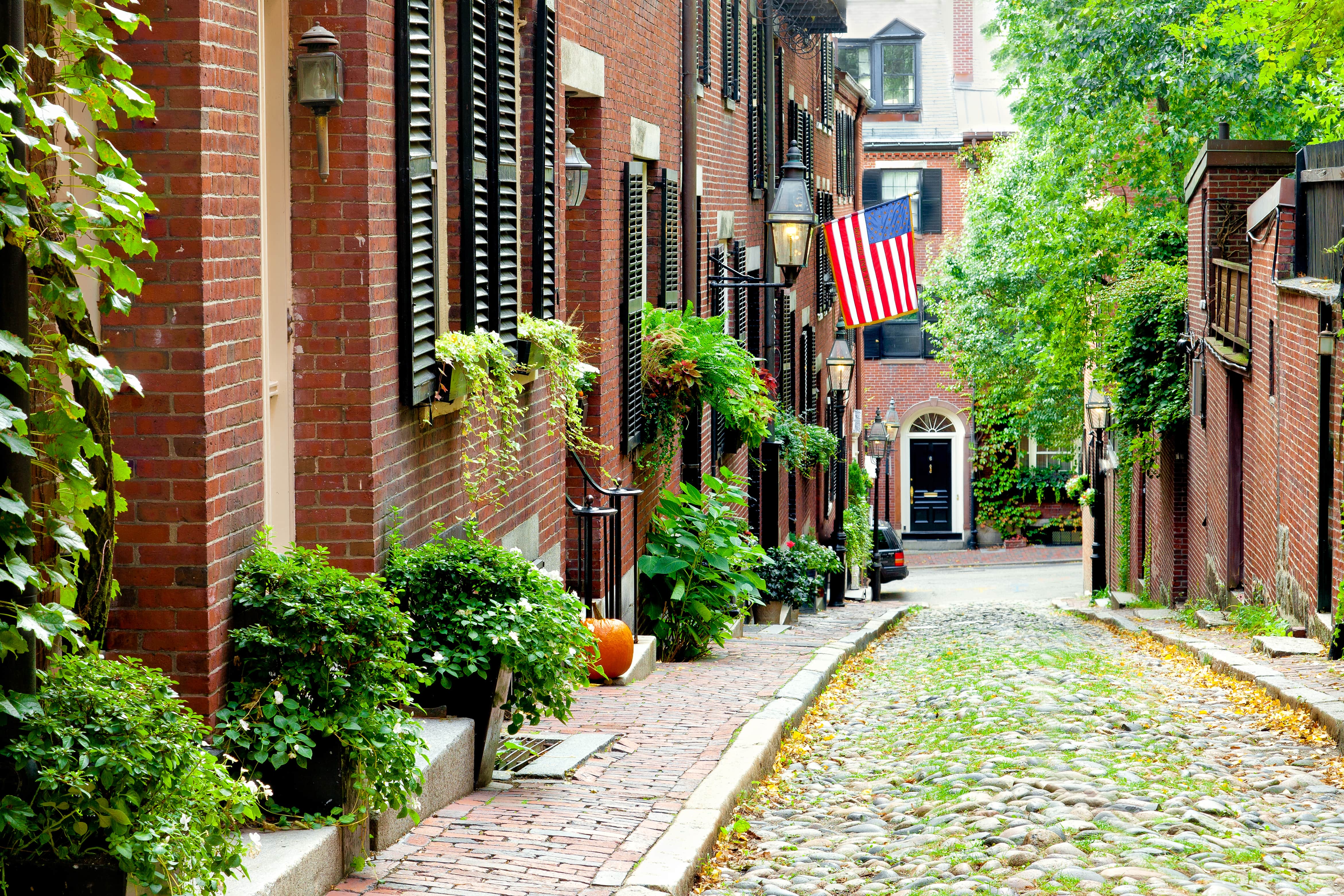 Nearly all Boston brownstones original features also have cozy fireplaces, spacious closets and ample square feet of storage room. These units also offer more space than your average urban apartment - giving you the more the feeling of living in a house than an apartment.
While Beacon Hill is known as a small (but prominent) section of Boston, those that live there know there are three distinct sections to the Hill. Beacon Hill is a walker's delight that can transport you back in time with its charming brick sidewalks, gaslights and even some cobblestoned streets.
South Slope – The South Slope in Beacon Hill is bordered by the Boston Common, Charles Street, Pinckney Street and the State House. Built in the 1790s, it was built for the most affluent families in the area. The South Slope became known as the "Seat of Boston Wealth and Power". The South Slope was planned and developed by the Mount Vernon Proprietors. While there were a few stately free standing mansions built, most of the homes built were Brick Beacon Hill Brownstones.
Flat of the Hill – The Flat in Beacon Hill is located between Charles Street, the Public Garden and the Charles River to Cambridge Street. This was the last area to be developed in Beacon Hill. It is here on the Flat of the Hill that you will find the shopping area, restaurants, gourmet food shops and infamous antique shops.
North Slope – The North Slope in Beacon Hill is bordered by Myrtle Street down to Cambridge Street. The North Slope has gone through many transitions over the last hundreds of years and is rich in history. Much of that history has been torn down over the years until protected by becoming a historic district in 1963. Most of the historic dwelling were replaced with high rise apartment buildings.
Beacon Hill Brownstones on the Market
You can find a Beacon Hill Brownstone for sale simply by contacting Jeff Chubb and his team of top Beacon Hill real estate agents. With years of extensive real estate experience, and hundreds of homes under their belt, these professionals can connect you with a range of available homes for sale in Beacon Hill area.
Beacon Hill Brownstones are truly cosmopolitan, upscale and aesthetically-pleasing. They are also in close proximity to transportation, shopping, school and dining venues. In fact, some historic brownstones in Boston date back over 250 years! Here are some more benefits of deciding to buy a brownstone in the Beacon Hill area:
Brownstones in Beacon Hill are protected as they are now a Historic District. Any exposures that face the main streets are not able to be altered. If improvements are made, they must be the same style and design.
Brownstones are well designed homes. They are sturdy and were built to last for generations to come.
The units are in high-end neighborhoods that are affluent and well-protected.
Due to the resilience of the strong brownstone building materials - they are able to withstand the cold winters and inclement weather of the Northeast - but upkeep is still important for exteriors and interiors. This may include yearly cleaning, power washing, etc.
Like any home, the Boston Beacon Hill Brownstones do require upkeep.
Based on how new or old your brownstone is - you may need to check historic preservation rules pertaining to brownstone brick or material erosion and rooftops. This allows you to maintain your brownstones as you see fit - but in uniformity and consistency with the other brownstones your unit is connected with. To learn more check out the landmarks preservation commission website.
A possible evaluation of the wooden pilings of Brownstones built in the 1800s and 1900s on Boston's filled land.
The Benefits of Investing in Brownstones
Beacon Hill Brownstones can be found in all price ranges. Opportunities await a Beacon Hill Condo buyer with price ranges from a 500,000 studio to a $10 million dollar single family brownstone. Beacon Hill Brownstones are some of the most highly sought after homes for sale in the Boston area and the country.
It is not just Bostonians who own premier Beacon Hill properties. Investors from all over the country and world have found a Beacon Hill to be a premier and stable investment.
For more information on Beacon Hill Brownstones and condos, contact your top real estate agent in Boston HERE and speak with the Beacon Hill Condo experts today.
LOOKING TO BUY A BROWNSTONE IN BEACON HILL?
Just fill out the form below and one of Boston's Top REALTORS will get with you shortly!