16 Biggest Selling Mistakes & How To Avoid Them
Posted by Jeffrey Chubb on Wednesday, October 17, 2018 at 6:06 PM
By Jeffrey Chubb / October 17, 2018
Comment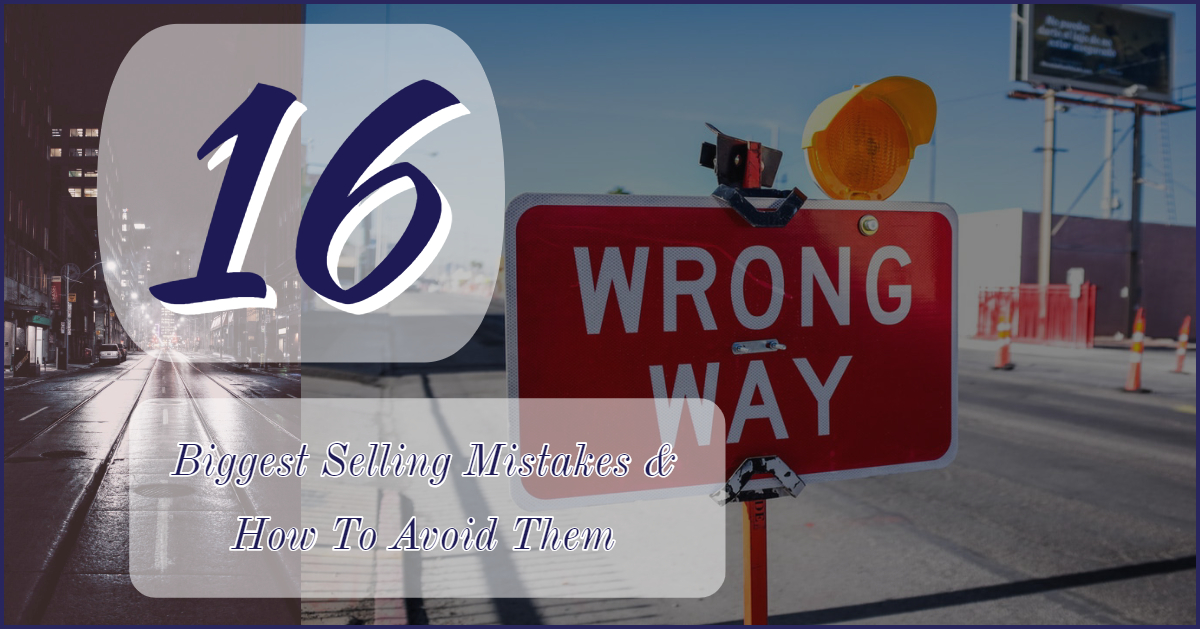 16 Selling Mistakes You Will Want To Avoid
Selling your house is a big deal and the process demands as much attention as you can give and an experienced professional to guide you. You'll want to do things right since any mistake could have dire consequences costing you thousands or putting you in a legal bind.
Is the house you are looking to sell in the Boston Metro market? Once you've done the necessary things to do before selling your house, you'll have to make sure you avoid the following common selling mistakes to sell faster and easier minus the frustrations, aggravations, and troubles that can come with doing things the wrong way.
Avoid Overpricing Your Home
Overpricing the property is the most common mistake you should avoid by all means. It's understandable that you love your house but will that justify a higher asking price then the market supports? Sellers who price their properties high often end up getting less than they would have made if the price had been set according to the market reality.
When it comes to setting a price, try to break free from your inner emotional attachment and set a price at or slightly above the market value. Your Boston Real Estate Agent will sit down with you to go over what similar properties are fetching in your neighborhood as well as the current market conditions.
With your agent, you'll be able to set a realistic price that won't scare away prospects or attract below market offers.
Avoid Underpricing Your Home
Just like overpricing, you stand to lose with underpricing. Both strategies will bring you a significant financial loss. There are many that will suggest a strategy of underpricing a home with the anticipation of bringing a larger market throughout your house. This strategy is flawed due to the possibility that the market will not react in a way to provide a multiple bid scenario.
Once a lower price has been set, it is public record and in the market place. It is easier to go down in price, then go up. The initial consolation with your Boston real estate agent will help you determine a marketable sales price by comparing your property to similar ones in your houses immediate area to ensure you're not about to shortchange yourself.
Avoid The Urge To List Your House As "For Sale By Owner"
Hiring the best Realtor in Boston to help with the sale of your property comes with a lot of advantages that outweigh any commission or expenses that hiring a professional will incur. Sellers who are tempted to step into the murky waters of real estate alone often end up making wrong decisions that put them at a disadvantage.
Houses often end up taking longer to sell and become known as a 'stale' property in the community. Research shows that when they eventually do sell, they go for less than they would have done with the expertise and professionalism of a real estate agent (Plus the agent does all the work and carries all the liability!). The simple truth is to avoid selling your property by yourself.
The value that a local Realtor will bring into the transaction is worth much more than the cost of hiring one.
Resist The Temptation For An 'Offer Call'
If you have looked at other homes, you may have seen the seller have a 'call for offers'. Oftentimes you will see or be recommended by an inexperienced real estate agent to do a call for offers at 'Tuesday at 5pm'. If you intentionally under price a house then this strategy can be successful at pushing the sales price close to market value.
This call for offer will also keep otherwise interested prospects from bidding on the house due to them not wanting to get in a situation that feels like an auction. However as discussed above, what happens if the market does react as expected to this low offer?
Should the deadline come and no offers arrive, then you are left in a much weaker negotiation position should there be an interested party that was waiting on the sidelines.
Avoid Emotional Attachment To The Property
Years of living in your home would have created this kind of bond between you and your abode. It is natural since this place would have created several memories and moments shared with families and friends. However, don't make the grievous mistake of carrying this into the sales process.
When you're listing houses for sale in the Boston Metro Market, you'll need to break any emotional attachment you may feel for the property in question. Start seeing your home from a buyer's perspective and only then would you be able to identify and address the flaws and faults in your home's features.
Avoid Leaving Out Necessary Repairs
Leaving your home in its "as is" state will cost you a great deal. Forget the fact that you've been able to live with these issues for years. Listing your home for sale with all of the flaws and faults would greatly affect how buyers value the property.
Sparing a few dollars to fix things prior to sale will make your house look better, more appealing, and more presentable. When buyers see your home in its disrepair, they're likely to get less interested or ask for credit to cover the needed repairs to make the place livable as per their own standards.
Doing the necessary touchups such as repairing cracks in the walkway or repainting dingy walls will ensure you do not suffer any loss either in dollars or significant buyers' interest.
Avoid Clutter And Remove Junk
Decluttering will cost you time and effort but the result is worth even more. A cluttered layout with junk piling around can easily kill any deal or eat into the equity. As simple as it seems, decluttering your home will create a sense of space within the house.
Don't attempt to leave your Boston Metro house for sale in its "waste deep" state. Clear countertops and attend to your overstuffed closets. Remove junk and rid the house of stuff you don't really need. Simple rule; if you are not taking it with you, then get rid of it now.
Avoid Inadequate Photography Planning
Most people who are looking to buy houses in the Boston area would usually take to the internet to start their home search. In this digital age, you'll be committing a great blunder without having a proper photography plan in place.
Your real estate agent can help you hire some of the best professional photographers who will capture your home in its freshness from different angles. Buyers would search through different photos online.
It is important that your own property stands out to attract enough attention. Professional photography would help to vividly portray your property with clean and beautiful high-definition photos to appeal to potential buyers.
Avoid Selling Your Home Empty – Stage It!
If you'll be putting your houses for sale in Boston area, you won't want to sell it in its empty form because this tends to make buyers feel empty. The best real estate agents in Boston would tell you that it is far better to stage the house prior to sale.
This does not mean you have to go out and spend on new accessories and furniture. You just need to use what you already have and then maybe replace old or outdated elements or take them out. In any way, avoid selling your home empty. Get the property staged to easily boost its appeal to prospective buyers.
Avoid Neglecting Your Property's Curb Appeal
To make a lasting impression, the house for sale has to look impressive from the start. The exterior of your home (or The Curb Appeal) is the first impressions which can be the lasting impression. Prospective buyers can easily pass by your home if it falls short of their expectations.
This is why neglecting your lawn, landscaping, exterior paint, doors, windows, and more would be like inviting disaster. An unimpressive exterior won't hold any promise to potential buyers. Not many people would waste their time on such type of properties.
Fewer prospective buyers means a less likely scenario of reasonable offers which can make a seller easily frustrated. Additionally, an unimpressive exterior won't add anything to the value of your home. The garden should be well-maintained.
The landscaping has to be done wisely and the lawn has to be mowed neatly. Flower pots should also be arranged neatly and repainting may also be considered to freshen up the exterior look. Remember, most potential buyers judge a book by its cover when it comes to searching for the perfect home to buy.
The moment your home gets listed on the market, your agent will want to arrange showings for prospective buyers. Whether this means vacating the home for most parts of the day or going out at dinnertime, the scheduling may or may not be convenient.
Convenient or not, you should try your best to accommodate the showing. Limiting showings may make it harder to sell the home. During these times, it is best to keep your eye on the end goal which is to sell your property at a great price within a quick time.
Avoid Selling At The Wrong Time
Listing houses for sale in Boston at the wrong time is another mistake sellers should try to avoid. However, it is not always easy to know what the perfect time is to sell.
Some people believe springtime to be the best season to sell but the perfect time will be determined by the forces of supply and demand in your neighborhood. The best time to sell is when buyers' interest in the neighborhood is high.
When the market is tilted in favor of sellers, it will be easier to sell fast at a fair price. To have an idea of the perfect time in your market, you will want to speak with your neighborhood expert, Jeffrey Chubb and his team – the Chubb Realty Group. Selling in a strong seller's market at low-peak times will make your property stand out to potential buyers.
Avoid Overlooking The Expenses Involved
Don't go into the closing stage ignorant of all the expenses and fees you'll be expected to pay. At the closing table, it will be too late to ask for credits or discounts. Being ignorant of what this entails can cost you thousands of dollars.
It is, therefore, necessary that you request for a comprehensive list of all fees and expenses you'll foot at closing. Take time to review these with your real estate agent long before you'll need to close the sale.
Avoid Withholding Necessary Information
Keeping important details to yourself can also have dire consequences. It will save you time and money when you're forthcoming about every significant issue your buyer may have to face.
If you leave them to discover these problems themselves, then they will and it may cost you a great deal. Be straightforward and disclose issues completely to save you from unnecessary headaches.
Avoid Your Emotions Getting In The Way Of Negotiation
The best real estate agents in Boston are skilled in negotiating and handling offers. Having your agent help with the negotiation process will be easier and more productive often times resulting in better results.
For some sellers, it's very easy to take things personal with their emotions getting into the picture. And that can make sense as it is more than just a house… It is a home! Make sure that you keep your emotions out of the negotiation process as to create a win-win deal for both parties. The second a 'for sale' sign goes up in your yard, it has moved from a home to an investment in which to maximize its return.
Avoid Hiring A Bad Real Estate Agent
Just like we advised against putting your Boston house for sale by owner, it's still not enough to just hire any agent. You should put much effort into hiring the best real estate agents in Boston with great knowledge and experience in your local market.
Houses for sale in Boston area should be handled by professionals who are skilled and experienced. This will help to constantly keep sellers in check to ensure they make great decisions throughout the entire sales process.
Selling your Boston homes for sale should not become a nightmare when you're headed down the right path. The missteps above can easily put your transaction in jeopardy.
Avoiding these mistakes as much as possible will not only make your real estate transaction faster and less stressful; it will also ensure you're able to sell without negativities that can affect how much in returns you're able to get from your investment.